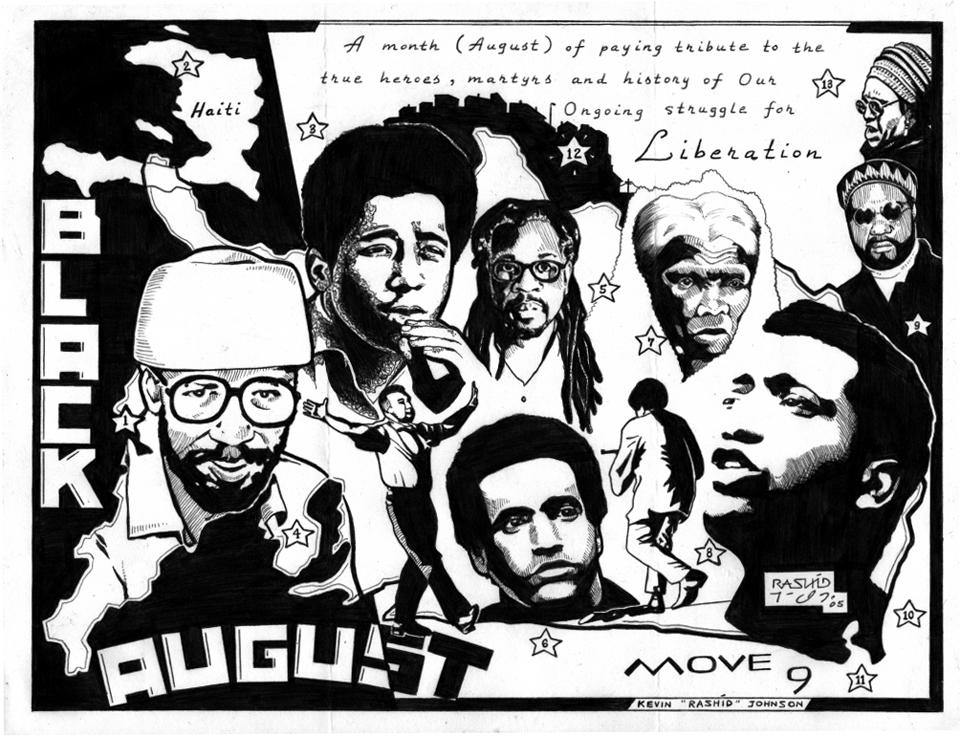 Our Black August letter-writing event will be held this Monday the 27th, at 6:30 pm. This Monday's event will feature Black Liberation prisoners, Sundiata Acoli and Joe-Joe Bowen.
A New York Black Panther, Sundiata Acoli endured two years of prison awaiting trial for the Panther 21 Conspiracy Case. He and his comrades were eventually acquitted on all the bogus charges. The case was historic and a classic example of police and government attempting to neutralize organizations by incarcerating their leadership. As a result of this political attack and because of the immense pressure and surveillance from the FBI and local police Sundiata, like many other Panther leaders went "underground." On May 2, 1973, Sundiata Acoli, Assata Shakur and Zayd Shakur were ambushed and attacked by state troopers on the New Jersey Turnpike. Assata was wounded and Zayd was killed. During the gun battle a state trooper was shot and killed in self defense. Sundiata was tried in an environment of mass hysteria and convicted, although there was no credible evidence that he killed the trooper or had been involved in the shooting. He was sentenced to thirty years. Sundiata was ordered released on parole by a state appeals court in New Jersey in September 2014 when the court ruled the parole board had "acted arbitrarily and capriciously" when it previously denied him parole. The State of New Jersey has appealed the decision.
Joe-Joe Bowen is a Black Liberation Army (BLA) Prisoner of War, serving two life sentences for the assassination of a prison warden and deputy warden, as well as an attempted prison break which resulted in a five-day standoff. A native of Philadelphia, Joe-Joe was politicized in prison before getting released in 1971, his outside activism was cut short a week following his release when Joe-Joe was confronted by an officer of the notoriously brutal Philadelphia police department. The police officer was killed in the confrontation, and Bowen fled. After his capture and incarceration, Bowen became a Black Liberation Army combatant.
We look forward to seeing you there! As usual, refreshments will be provided by North Philly Food Not Bombs and we will send birthday cards to political prisoners with August birthdays: Chuck Africa and Eric King (both on the 2nd), Bill Dunne (the 3rd), Hanif Bey (the 6th), Dr. Mutulu Shakur (the 8th), Little Feather Giron (the 15th), Russell Maroon Shoatz (the 23rd), Dr. Rafil Dhafir (the 25th), Ronald Reed (the 31st).