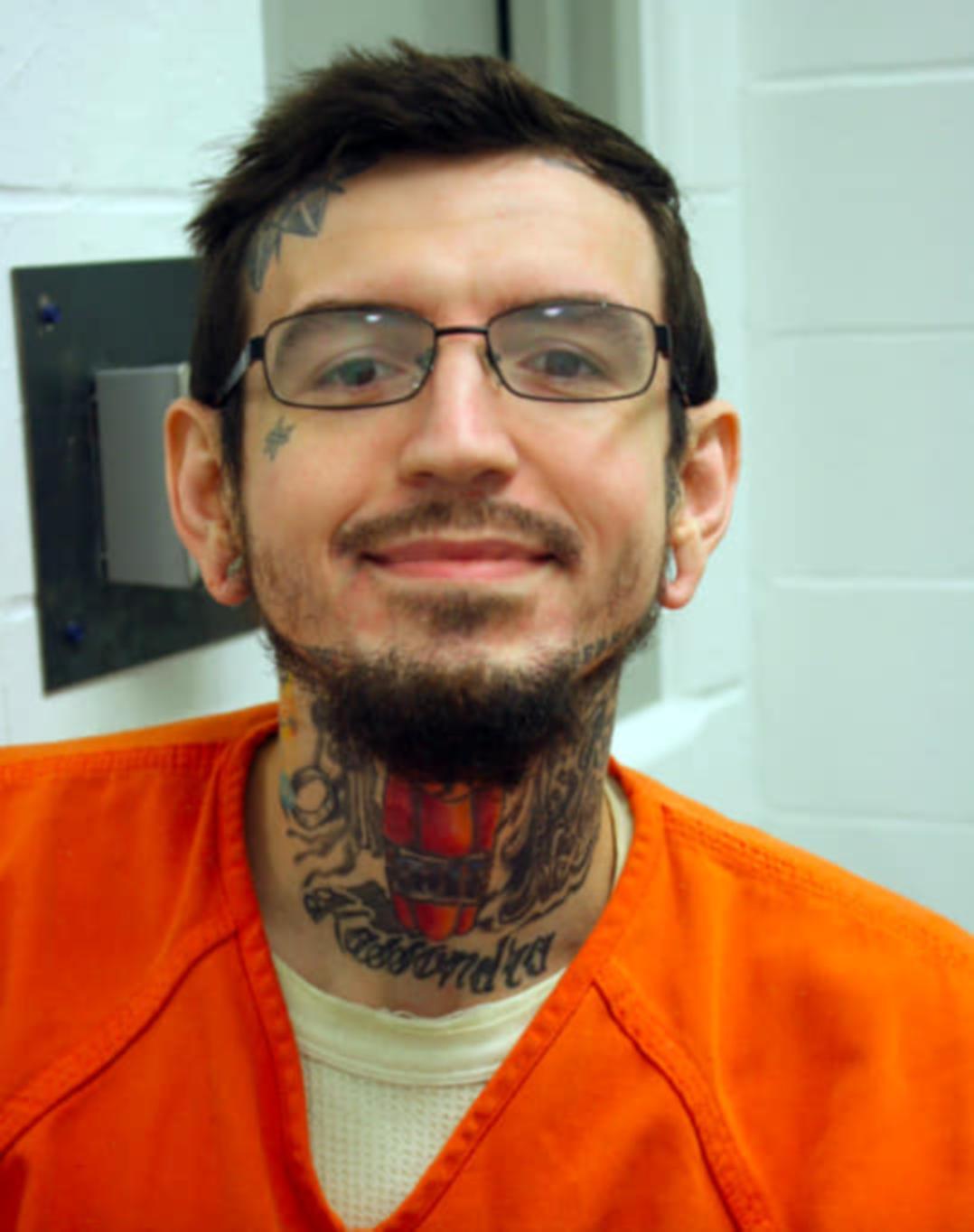 Monday, August 26th, 6:30pm at A-Space (4722 Baltimore Avenue) -
Eric King , vegan anarchist political prisoner, was arrested and charged with an attempted firebombing of a government official's office in Kansas City, MO in September 2014. Eric was charged with throwing a hammer through a window of the building, followed by two lit Molotov cocktails. The criminal complaint states that both incendiary devices failed to ignite. Eric was identified as a suspect by local police because he had previously come under suspicion for anti-government and anti-police graffiti.
On March 3, 2016, he accepted a non-cooperating plea agreement to one count of using "explosive materials to commit arson of property used in or affecting interstate commerce." Eric King was sentenced to ten years, the statutory minimum and maximum for the charge he plead guilty to. His release date is June 2nd, 2023. Since his arrest and subsequent incarceration, he has been extremely isolated from his loved ones and has repeatedly been targeted by the guards, who regularly put his safety in jeopardy.
On or around 8/3, when in custody at USP Lee, Eric woke up unable to use his left hand/arm whole side of his body with paralysis of the whole left side of his face. When looking in the mirror he experienced mirrored-self misidentification, which means that he did not recognize himself in the mirror. Within 24 hours all symptoms were gone, meeting a lot of the qualifications of a transient ischemic attack or a mini stroke. Obviously without testing we can not know, but if this is the case it puts him in danger. One in three folks with this go on to have a full blown stroke. If he doesn't get a neurological assessment asap, there is the possibility of irreversible damage. The standard of care is to perform an immediate CT scan and ultrasound of the neck, be evaluated by a neurologist, and have blood tests.
However, instead of any medical care, he was picked up for transfer at 3am on August 13th and told he was being called into court on a "writ." It seems likely that they are bringing him back to Colorado to try to charge him federally for being dragged into a broom closet, attacked and then kicked in the head repeatedly by 6 officers, tied to a 4-point bed covered in blood for 8 hours, having to urinate on himself, before being placed in a cell with a toilet clogged with feces and a strobe light overhead for 4 days.
Transfers are always difficult for prisoners, but this one is especially so because in addition to him losing access to his commissary money, contact with his family will be limited/more expensive, he will likely lose access to vegan meals and is STILL in need of urgent medical attention in addition to whatever bogus reason he is being called into court for. We will be writing letters to Eric with words of support in this difficult set of circumstances and have them ready to drop in the mail as soon as we get word which facility he ends up at after transfer. If you are writing from home, check supportericking.org for news on where to send mail. We understand he tends to like news about his favorite football team Manchester United, science, IRA articles, space, anything interesting, funny, weird or entertaining. We also encourage folks to donate to his support crew or buy merch from them as funds will be needed for commissary and legal expenses.
We will also send birthday cards to prisoners with birthdays in September: Brian Vaillancourt (the 4th), Leonard Peltier (the 11th), and Abdul Maumin Khabir (the 14th).