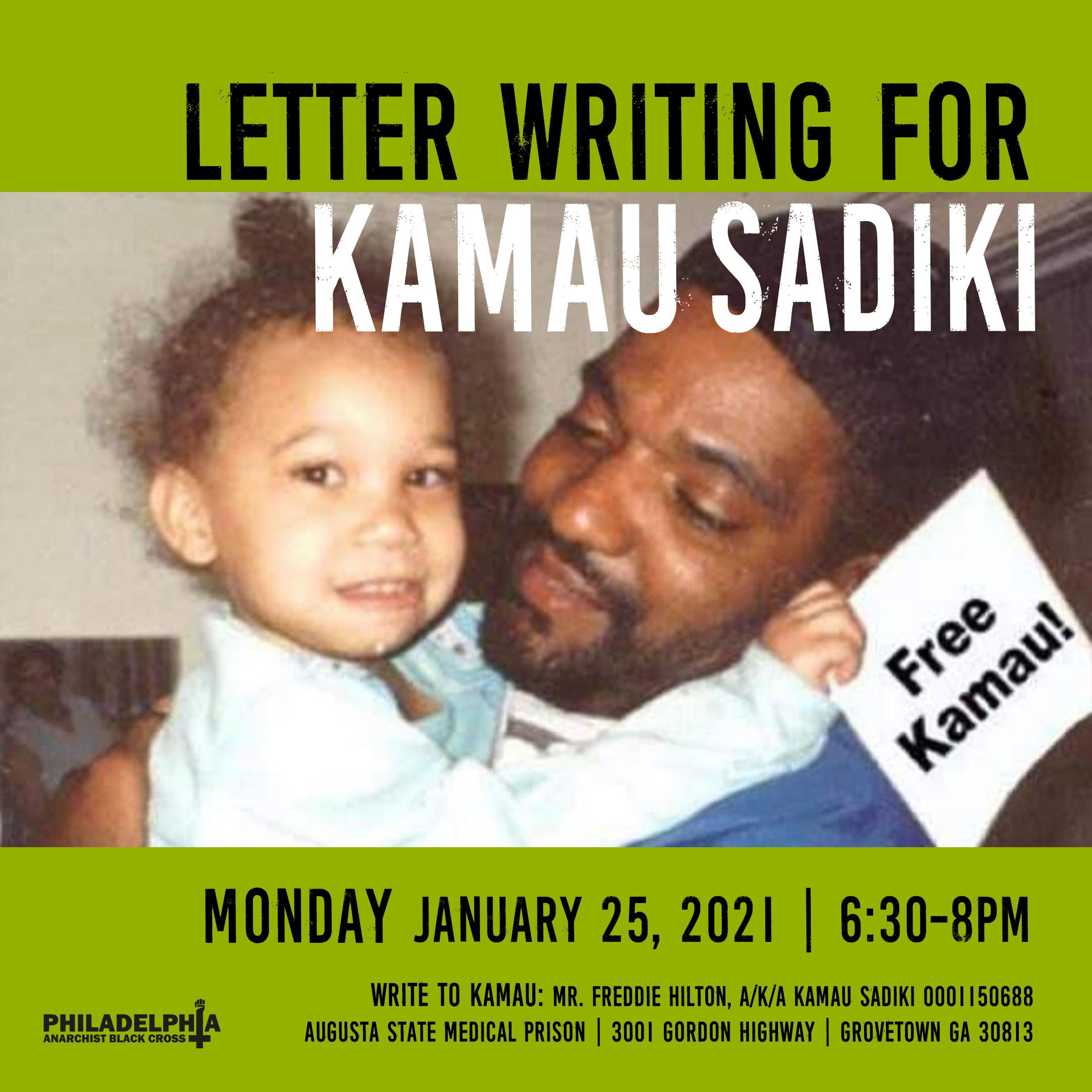 This month we are asking that folks write letters of support to former Black Panther, Kamau Sadiki . Kamau has been held in the Augusta State Medical Prison for years and suffered medical neglect. Right now, Kamau is in danger of needing his left foot amputated and needs to see a wound specialist. Before you join us next Monday to write a letter, please take a minute to tweet at @GovKemp & call the Augusta State Medical Prison at (706) 855-4700 to demand he be taken to the wound care clinic ASAP. At the letter-writing event, we will have an update about the medical campaign and send words of solidarity directly to Kamau so that he knows, and the prison knows, this situation is getting wider public attention.
At age 17, Kamau dedicated his life to the service of his people working out of the Jamaica office of the Black Panther Party. Kamau worked in the Free Breakfast Program each morning and then went out into the community to sell the BPP newspaper later in the day. At nineteen, Kamau was a member of the Black Liberation Army (BLA). Several members of the BLA, including Kamau, left New York City and lived in the Atlanta area for a short period of time. On the night of November 3rd 1971, witnesses observed three black males run from a van where a police officer was murdered at a gas station in downtown Atlanta. The witnesses failed to identify Kamau from a photographic line-up and there was no physical evidence that implicated him. In 1971, the Atlanta police department closed the case as unsolved.
In 1999, the FBI in pursuit of collaboration in their attempts to recapture Assata Shakur (the mother of one of Kamau's daughters), a political exile in Cuba, threatened him with life in prison if he did not assist them. When he did not comply, the FBI convinced Atlanta police to re-open the case and charge Kamau. He was arrested in 2002 in Brooklyn, New York some thirty-one years later after the murder. In 2003, he was sentenced to life imprisonment for murder and ten years to run consecutively for armed robbery. Much of his sentence has been spent in a medical prison because he suffers from Hepatitis C, Cirrhosis of the Liver, and Sarcoidosis. February 19th will be his 68th birthday so send him some birthday love as well!
This event will be held on Jitsi - we'll post the meet link on social media the day of. You can also message us to get the link beforehand.
If you can't join us on Monday, send him a message of hope and healing at:
Freddie Hilton #0001150688
Augusta State Medical Prison
3001 Gordon Highway
Grovetown, GA 30813
We also encourage sending birthday cards to political prisoners with February birthdays: Veronza Bowers (the 4th) and Oso Blanco (the 26th).