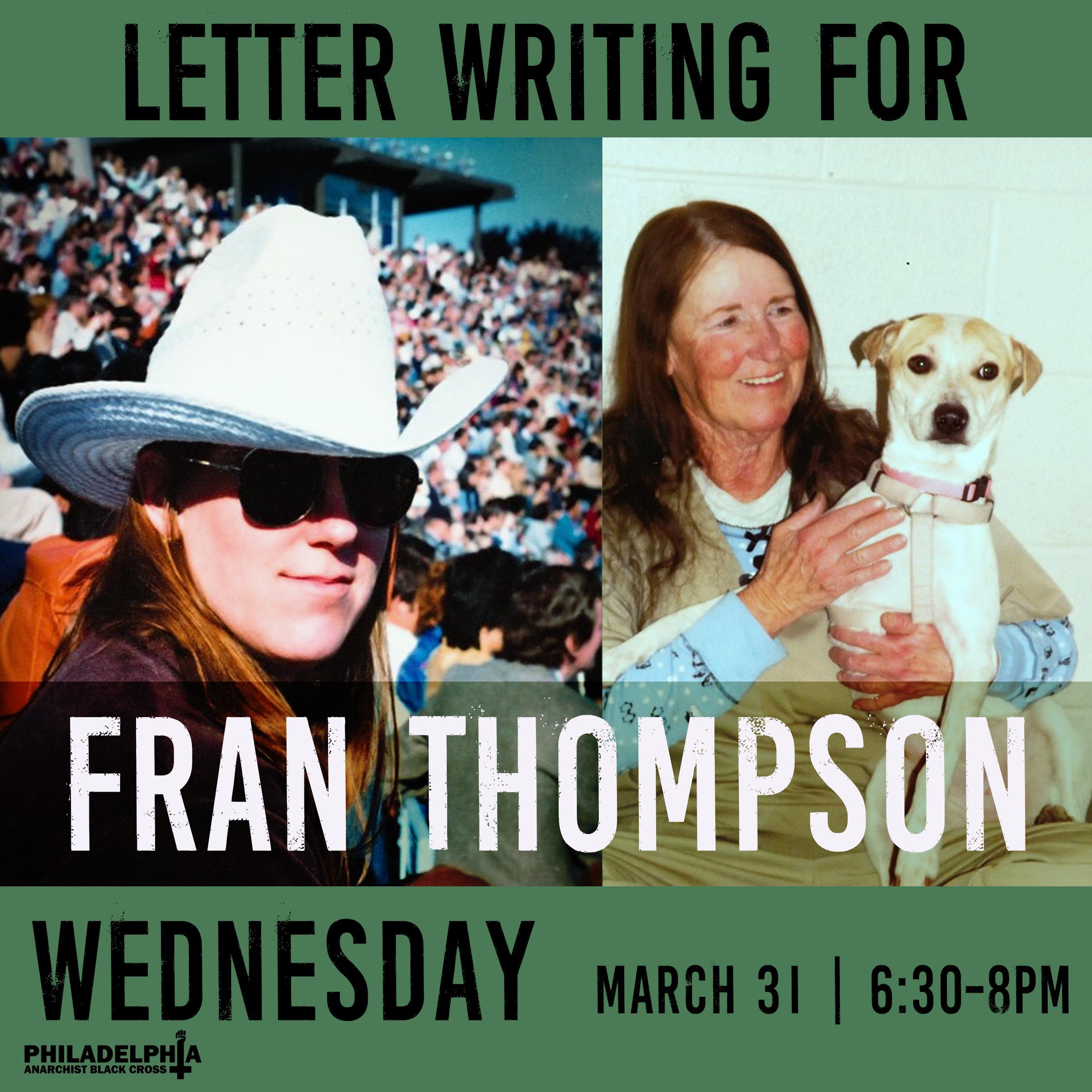 Philly ABC has been busy gearing up for this year's Running Down the Walls 5K (save the date of September 12th with funds split between the ABCF Warchest and Mumia Abu-Jamal!), but we didn't want to miss a monthly letter-writing so we are hosting the next event online this Wednesday the 31st.
Philly ABC is energized by building momentum towards abolishing the police. As prison abolitionists, we stand in solidarity with the many people who have taken necessary actions to defend themselves without engaging police or courts. We believe self-defense is a right, and recognize that police and courts do not provide viable options to ensure safety. Both are even more biased against people who are known to stand up against injustice.
This month we encourage people to write letters to Fran Thompson , who was sentenced to life in prison for self-defense in 1994. Prior to her incarceration, Fran lived on a farm in Knox County, Nebraska. She was a dedicated animal rights and environmental activist. After a man who was stalking her threatened to kill her and then broke into her house, Fran shot and killed him in self-defense but was charged with murder.
Fran's case was highly politicized. Fran had taken on the prosecutor and local government during her activism, organizing against two big projects, the Walden Egg Factory and a nuclear waste facility, that would have brought the county big profits. She was treated harshly by the local court for her commitment to animals and the environment. She was not allowed to enter a plea of self-defense and received a sentence of life without parole.
This event will be held on Jitsi - we'll post the meet link on social media the day of. You can also message us to get the link beforehand. If you are unable to make the event, please drop Fran a line and let her know she is not forgotten:
Fran Thompson #93341
Nebraska Correctional Center for Women
1107 Recharge Rd.
York, NE 68467-8003
We also encourage sending a birthday card to Mumia Abu-Jamal (April 24), as a U.S.-held political prisoner born in April. Sadly, the other political prisoner who we would have been sending a birthday card to– Chip Fitzgerald – recently suffered a severe cardio-vascular event and passed away on March 31st, so we send heartfelt condolences to his loved ones.