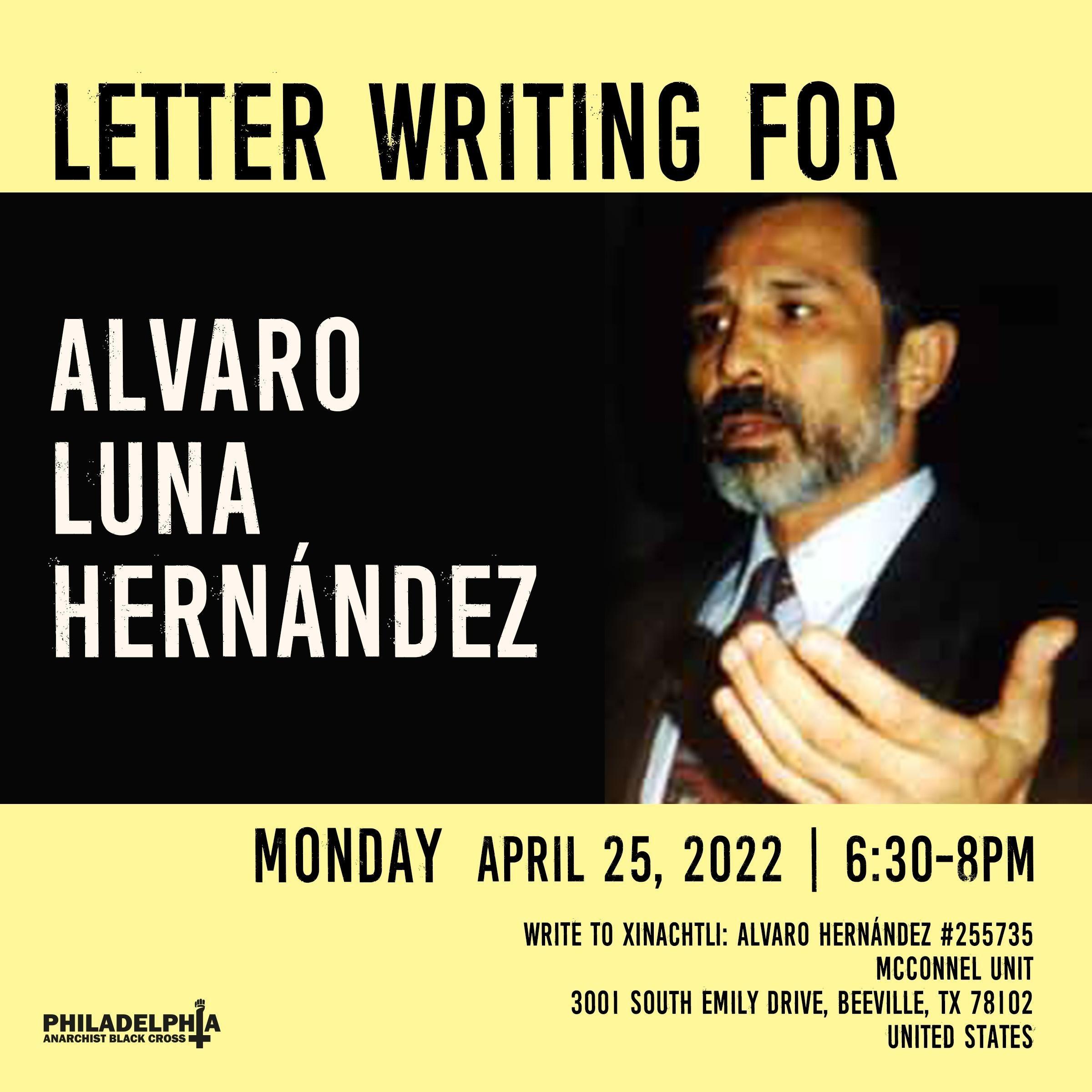 Philly ABC is back at it this month with another monthly letter-writing event for political prisoners. This event will be online - join from anywhere! We hope to return to outdoor in-person events next month.
This month we will be checking in with Xinachtli, a Chicano-Mexicano anarchist political prisoner serving a 50-year sentence after being targeted for his Chicano rights and anti-police brutality activism.
In 1976 he was falsely accused of murder, for which he narrowly escaped the death penalty, destined instead to serve a life sentence. He was released after media highlighted his unfair trial and proof of his innocence, but then later suffered a brutal beating at the hands of several police officers.
In 1996 Xinachtli became the target of the most massive police manhunt in recent West Texas history after disarming a sheriff who tried to shoot him on a warrantless arrest, and fled to a nearby mountain. For days Xinachtli eluded police helicopters, bloodhound tracking dogs, armed vigilante groups, and other state and federal police agencies before they surrounded him after returning to his mother's house to eat and change clothes.
Without identifying themselves, police began shooting indiscriminately at the house, at cars parked in front, and at the public street lights. To back them off their murderous intent, Xinachtli returned fire in self-defense but never shot nor injured anyone. During the police barrage, Sgt. Curtis Hines was shot in the left hand by a ricocheting police bullet.
Xinachtli surrendered and was charged with two counts of aggravated assault; one count for disarming the sheriff and one count for Sgt. Hines' wound. His elderly mother was charged with "hindering apprehension" and jailed.
Prior to his incarceration, Xinachtli also advocated for human rights of framed and political prisoners, and he continues to help other prisoners assert their legal rights. Join us as we show Xinachtli some love and get the latest updates on the struggle to free him. His birthday is also May 12th if you are writing from home and want to send him birthday greetings.
We will also be sending birthday greetings to the other U.S.-held political prisoner with a birthday in May: Kojo Bomani Sababu (the 27th).