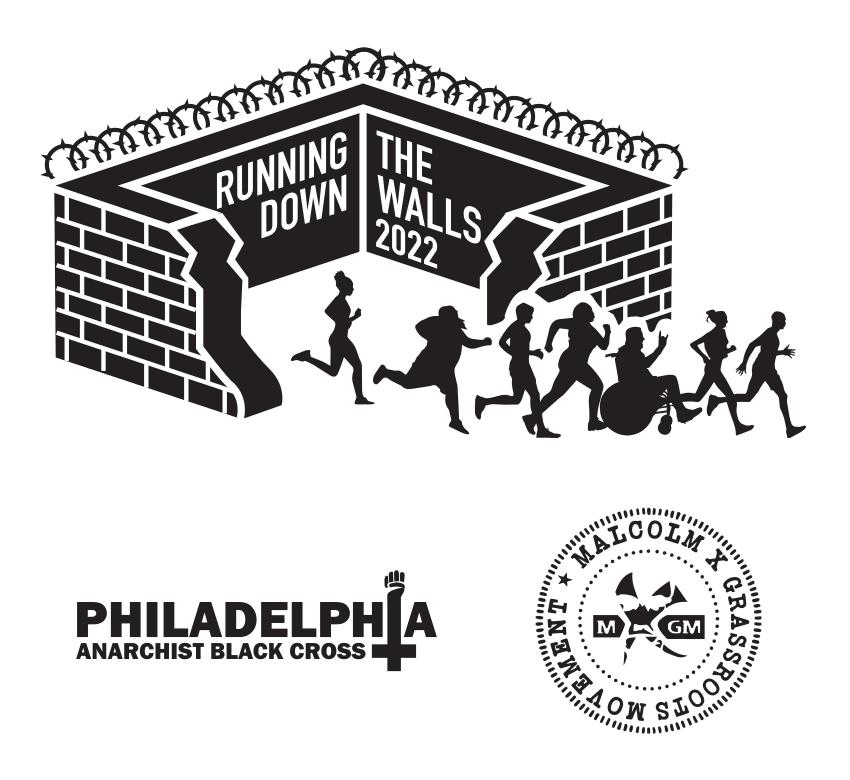 Sunday, September 11, 2022
11 am sharp (Yoga warm-up at 10am)
FDR Park
Philadelphia Anarchist Black Cross invites you to our fifth annual Running Down The Walls (RDTW)! Join us for another revolutionary 5K run/walk/roll and day of solidarity amplifying the voices of our comrades behind bars, lifting them up in their struggles, and maintaining material support. Each year, incarcerated comrades participate by running/exercising inside prison. This event brings us closer together, strengthens our bonds, and lets people behind bars know they are not forgotten! Check out these prisoner solidarity statements to see just how much it means to them.
If you would like to participate in light yoga and warm-up stretches before, please arrive by 10am and bring a mat if you can.
Running is not required! You can also walk, roll, or cheer. 5K is two loops around the park and at a walking pace will take about 45-60 minutes. Light refreshments and socializing will take place in the park afterward.
To join us either in person or remotely, please submit your registration NO LATER THAN AUGUST 26TH so that you receive your official shirt the day of the event. The registration fee of $40 confirms your place at the event and covers your shirt. We can accept credit/debit donations online or cash/check/money order on the day of event. Make checks and money orders out to Tim Fasnacht. Additional funds over the $40 base fee raised through sponsorships are more than welcome.
If you cannot make it to the event or would like to make an additional contribution, please sponsor a participant either outside prison, inside prison, or one of each. Contact us for more information on sponsoring! We will ship official shirts nationwide to people who register to participate remotely, pay online and leave their shipping address in the comment box!
Time creeps up fast, so don't wait until the last minute! Register now!
This year's proceeds will be split between the ABCF Warchest and the Philly chapter of the Malcolm X Grassroots Movement. Join us as we once again raise energy and funds for the freedom of long-term political prisoners and the struggles they are serving time for.
Power in defense of freedom is greater than power in behalf of tyranny and oppression, because power, real power, comes from our conviction which produces action, uncompromising action.

- Malcolm X
The Malcolm X Grassroots Movement is network of Black/New Afrikan activists and organizers committed to their protracted struggle for liberation and self-determination – by any means necessary! MXGM Philly is working to develop a Black survivalist network to provide members with training on survival of natural disasters and other threats to safety and well-being. They are also part of the Black Philly Radical Collective - a collective of Black organizations and individuals committed to ending the war against Black Philadelphians by organizing to permanently & holistically eliminate the state violence endangering the Black community.
The ABCF Warchest program sends monthly stipends to political prisoners and prisoners of war who have insufficient, little, or no financial support. The program receives donations from ABC chapters and other individuals and then disperses the funds to the recipients in the program. The current Warchest recipients are:
This year marks a milestone in the Warchest program as we surpassed $205,000 in funds raised! Due to the abominable conditions that political prisoners and freedom fighters are subjected to, and the prevalence of health issues from medical neglect, they need our support now more than ever. Let's celebrate our successes over this last year and build momentum for the struggles ahead. We look forward to seeing you there!