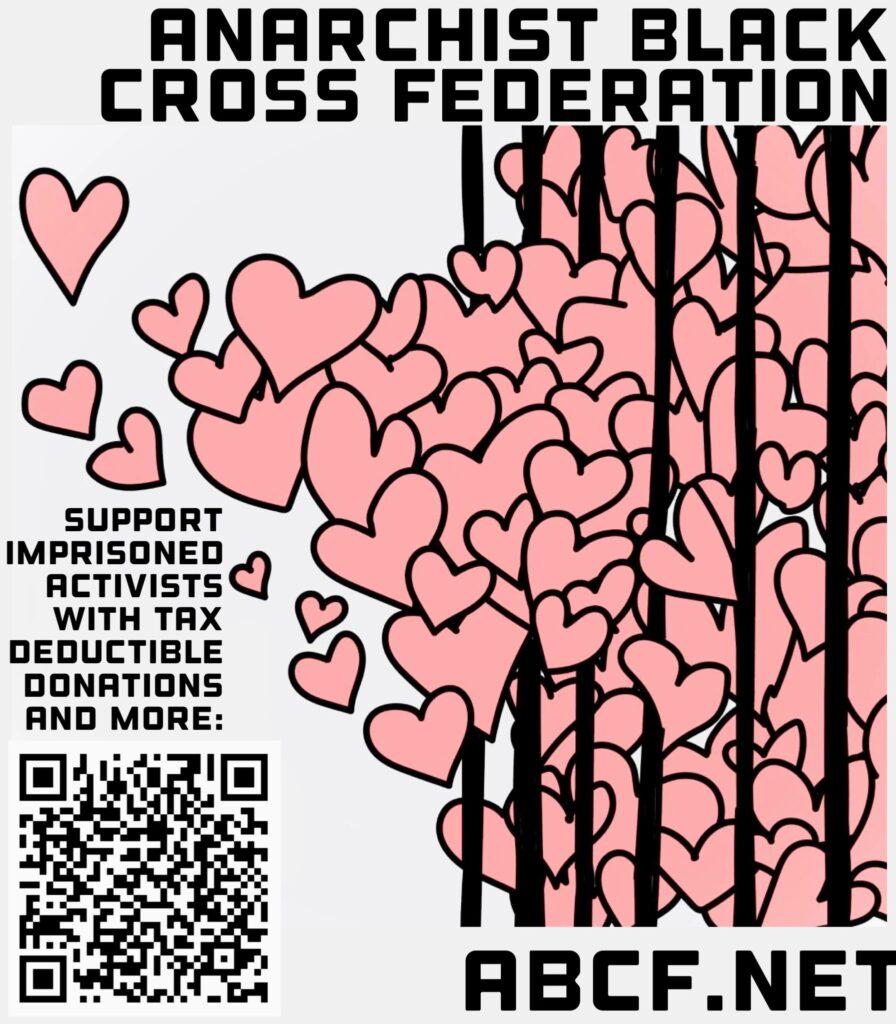 The closing stretch of 2022 with its holidays and festive gatherings is in sight. No doubt, many of you are eager to gift the new Certain Days calendar to friends and loved ones. However, just because the year is winding down into sweater weather and hot cocoa, does not mean that the Anarchist Black Cross Federation's struggle against repression will be taking a break.
On the contrary, we plan for 2023 to be full of solidarity, mutual aid, and freedom for political prisoners and we'd love it if you could help us get a head start on those efforts.
Tax Deductible Donations
The ABCF can now provide tax deduction receipts for donations of over $500 through our fiscal sponsor, IDAVOX/One People's Project.
To take advantage of the tax deduction, make your check payable to "One People's Project" with "ABCF" in the memo and mail it to: ABCF-OC, P.O. Box 4341, Santa Ana CA 92702. Be sure to include a return address (preferably email) where we can send your receipt back to you.
Of course, this isn't the only way to contribute to the work the ABCF does– we can accept contributions of any amount through the normal CashApp, Venmo, PayPal and checks/money orders if no tax deduction is desired. You can also pick up some sweet Pushing Down The Walls and other merch from our Orange County chapter.
Looking Back and Planning Ahead
Speaking of "the work," here's an incomplete list of what we've been up to since our last year end round up:
Online and in-person letter-writing events hosted by various chapters, as well as our ongoing administration of prisonersolidarity.com.
ABCF Chapters and comrade organizations all over the US and Canada put together 12 Running Down The Walls 5K events which raised a combined $21,154.84 for the Warchest Program.
Regular, reliable disbursements to the 17 current Warchest Program recipients.
Additionally, we've provided mutual aid to comrade organizations internationally as well as individual political prisoner support committees here on Turtle Island. For example:
$2000 to Belarus Anarchist Black Cross to support political prisoners there.
$1500 to Moscow Anarchist Black Cross to respond to the repression of anti-war organizing against Putin's invasion of Ukraine. We were able to make this transfer before Russia was excluded from SWIFT banking systems.
$1000 to the Civil Liberties Defense Center to assist with their eventually successful representation of Eric King. The BOP's bogus, retaliatory charges were designed to bury him decades beyond his original sentence.
$4000 to Sundiata Acoli's post-release support fund.
$1000 to the housing fundraiser for Herman Bell, a former Black Panther and political prisoner who was incarcerated for 45 years.
$1000 to the support committee of Kamau Sadiki to help cover ongoing legal, medical, and visitation costs.
Now that you have some idea of what to expect from us in 2023, please consider making a contribution and inviting your friends to do likewise. As an organization made up entirely of volunteers, our ability to fight for the survival and freedom of imprisoned comrades is dependent on gifts from our community.
They're in there for us. We are out here for them.