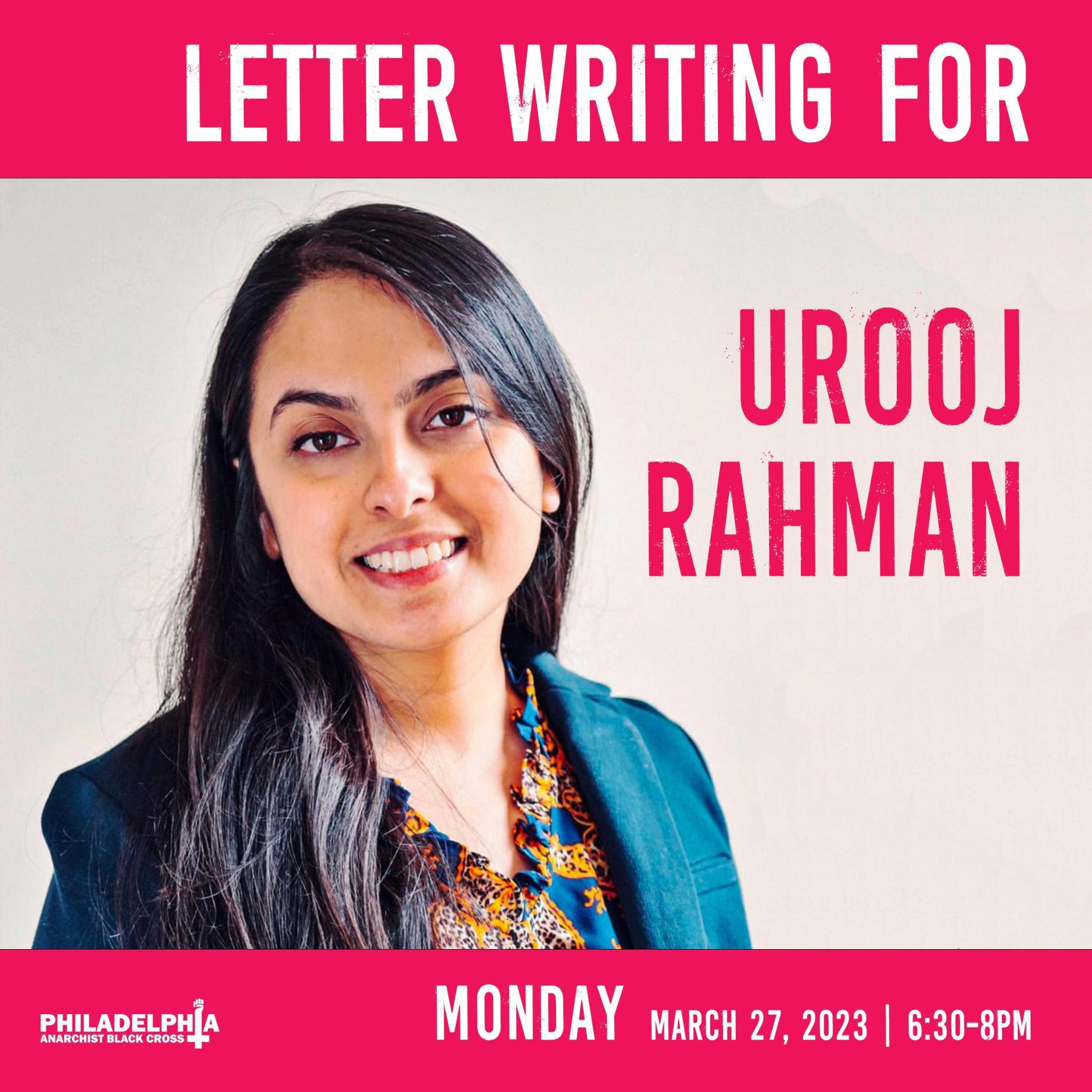 Join us at Iffy Books (319 N. 11th St. #2I) at 6:30pm on Monday, March 27th to send letters of solidarity to Urooj Rahman, a human rights lawyer and activist arrested during the protests in response to the murder of George Floyd.
Urooj has spent her legal career protecting the rights of refugees around the world. She spent the last year representing low income New Yorkers facing eviction.  She received both her undergraduate degree and law degree from Fordham University where she championed, and continues to champion, civil rights. During her time at Fordham Law, Urooj co-directed an LGBTQI human rights defender training in Cape Town, South Africa and contributed to a shadow report on behalf of Afro-Colombian women submitted to the UN Convention on the Elimination of All Forms of Racial Discrimination (UNCERD).
During the 2020 protests in response to the murder of George Floyd, Urooj was arrested and then indicted on seven counts for causing damage by fire to an abandoned and previously vandalized police vehicle. After over a year of fighting a slew of federal charges that together carried a mandatory minimum of 45 years in prison and a possible life sentence, Urooj initially took a non-cooperating plea to one count of possession of an unregistered destructive device which carries a sentence up to 10 years. Prosecutors indicated that they would seek to apply a "terrorism" sentencing enhancement against Urooj, which would make it much more likely that she would be sentenced to the full 10 years.
In June of 2022, after months of additional litigation and negotiation, Urooj entered a new non-cooperating plea deal to only one count of Conspiracy, which carries a maximum sentence of only 5 years, and prosecutor agreeing to recommend a sentence of 18 to 24 months. On November 18, 2022, Urooj was sentenced to 15 months in prison with two years of supervised release and over $30,000 in restitution. She was ordered to turn herself to begin her sentence on January 15, 2023.
Snacks and letter-writing supplies will be provided. If you cannot make the event, send Urooj some love at the address below. Note: Her name is Urooj but the BOP has her in the system as "Uroo," so for the time being it is probably best to address the envelope that way.
Uroo Rahman #83822-053
FDC Philadelphia
P.O. Box 562
Philadelphia, PA 19105
We will also send a birthday card to another political prisoner born in April: Mumia Abu-Jamal (the 24th).